Since the start of this academic year, more than 3,000 children in Delhi's government schools, representing 18% of the total students enrolled in them, have been identified as "chronic absenteeism", i.e. have been absent from school for seven consecutive days. days or 20 out of 30 working days.
Of the 3,48,344 children identified with "chronic absenteeism" from April 1 to October 20, the largest part are between the ages of 11 and 16, which together represent 71.6% of these absent In the 11-13-year-old category, 1,35,558 children, or 19% of students of this age, had this attendance history and in the 14-16-year-old category, it was 1.13. 876 children or 16% of students of this age. Boys account for 55% of these "chronic absenteeism" while girls account for 45%.
As of September 30, as many as 7516 of the children enrolled in these schools did not attend school for a single day and attempts to contact their families were unsuccessful.
This data has been compiled by the Delhi Commission for Protection of Child Rights as part of its early warning system to curb absenteeism and dropout rates in Delhi government schools.

After a two-year hiatus due to the Covid-19 pandemic, compulsory attendance was reinstated for students of all grades in Delhi schools on April 1 with the start of academic year 2022-2023.
This attendance tracking system was launched at the start of the school year to identify children at risk and curb absenteeism.
Of these 3.48 thousand children who have been chronically absent, the DCPCR has held telephone conversations with the families of 73,513 children, which provides a picture of the reasons for their absence.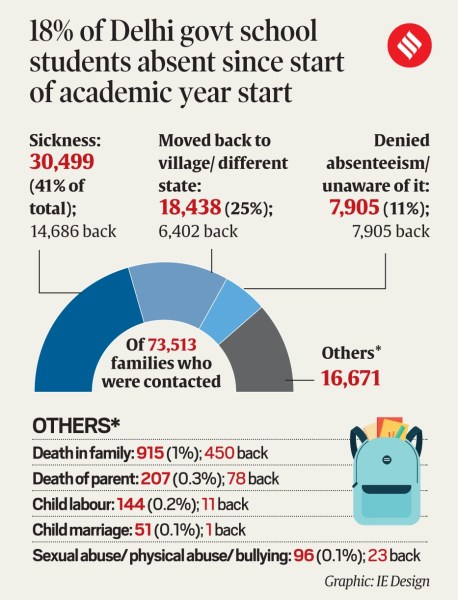 "In many cases, the girl returns to her ancestral village where DCPCR has no jurisdiction," DCPCR president Anurag Kundu said.
Response to interventions has also varied by age category. While 16% of children under 5 identified as chronically absent "returned to school", this was reduced to 9% each in the 11-13, 14-16 and over 16 categories.
Explaining the gap between the 3.48 lakh children identified as "chronically absent" and the 73,513 with whom talks have been held, Kundu said, "Since our systems have been expanding, most of the interventions have only taken place in the last few months. which is when these conversations have taken place. This is the main reason for the gap. Another small part is because the phone numbers provided by the parents to the school no longer are used".