The number of student suicide deaths increased by 4.5% in 2021, according to the latest figures from the National Crime Records Bureau. Maharashtra had the highest number of student suicide deaths in 2021 with 1,834 deaths, followed by Madhya Pradesh with 1,308 and Tamil Nadu with 1,246 deaths.
The NCRB's Accidental Deaths and Suicide in India (ADSI) 2021 report shows that student suicides had increased dramatically during the coronavirus pandemic in 2020 and 2021 and have been rising steadily in the last five years .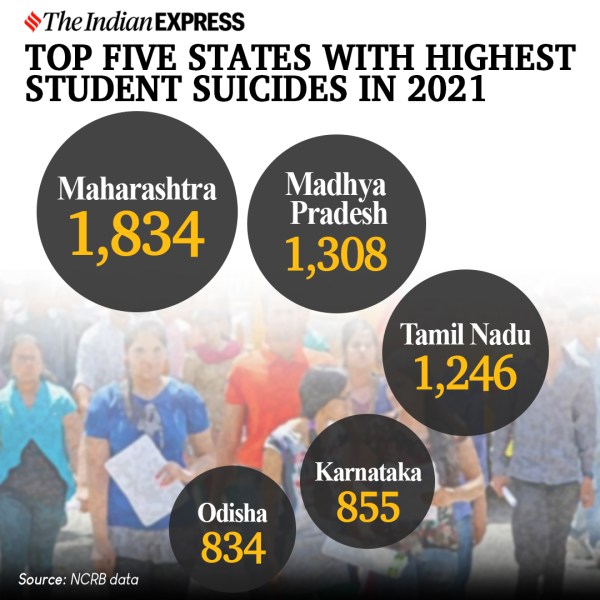 Graphics by Abhishek Mitra
In 2020, up to 12,526 students committed suicide, while in 2021 the number rose to 13,089. Between 2017 and 2019, student suicides accounted for 7.40% to 7.60% of all suicides in the country. This rose to 8.20% in 2020 and fell only marginally to 8% in 2021.
Specific reasons for student suicide deaths are not given in the report. However, the report states that of the 10,732 young people under the age of 18 who committed suicide, 864 were due to "exam failure". The main cause of suicide in this age group (under 18) was "family problems".
Since 2017, student suicide deaths have increased by 32.15%. The total number of student suicides in 2017 was 9,905.
The report also showed that the percentage of female student suicides was at a five-year low of 43.49%, while male student suicides accounted for 56.51% of total student suicides. students In 2017, 4,711 students committed suicide, while in 2021 these deaths increased to 5,693.
The NCRB report also showed the educational status of suicide victims and stated that "only 4.6% of the total suicide victims were graduates or higher". About 11 percent of the victims were illiterate, while 15.8 percent of them had education up to primary level, according to the NCRB report.
The number of deaths by suicide has increased in India by 7.2% since 2020, with up to 1,64,033 people taking their own lives in 2021, the report shows.